February – Labor Law Update & Legal Resource Fair – 2020
Tuesday, February 11, 2020 - 11:45 am - 5:00 pm

Brickstones Room:
11:45 pm – 12:00 pm – Registration
12:00 pm – 1:00 pm – Buffet Luncheon & Chapter Business
1:00 pm – 3:00 pm – Labor Law Update and Speakers
Gallery:
3:00 pm – 5:00 pm – Legal Resource Fair
COMPLIMENTARY HEADSHOTS PROVIDED TO CHAPTER MEMBERS BY OUR PLATINUM SPONSOR, EASTRIDGE!
SCHOLARSHIP and $400 stipend
will be awarded to ALA's Annual Conference in Salt Lake City May 3-May 6 during the Legal Resouce Fair!
*Must be present to win*
ALA Members – Free
GUESTS OF MEMBERS – $80
Potential ALA members are welcome as free guests provided that this is the first meeting they are attending. Please contact Cynthia Barron for details and to RSVP for a guest that is a potential ALA Member! cbarron@fitzgeraldknaier.com
Parking
Free Street Parking OR Hazard Parking Lot
$5 Covered Parking at Doubletree Entrance
RSVP
Final RSVP due by Thursday, February 6, 2020
CANCEL POLICY
Last day to cancel without penalty is Thursday, February 6, 2020
*Please note that NO SHOWS or Late Cancellations will result in a $50 fee.
MCLE/CLM – 2.0 Hours Law Practice Management
SPONSORED BY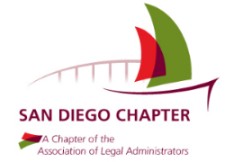 Doubletree by Hilton – Mission Valley