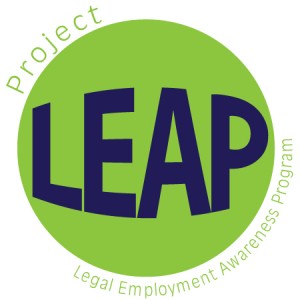 Leap of faith, leapfrog, leap year, giant leap for mankind! Introducing Project LEAP – the Legal Employment Awareness Program – designed to educate, entice, entertain and enlighten high school students as to the vast array of interesting, challenging and lucrative careers in the legal profession.  In recent years, there has been a disturbing trend of fewer young people pursuing careers in the legal field. Partly to blame is the fact that students are unaware of the tremendous opportunities available. Project LEAP is an effort on behalf of the San Diego Chapter of ALA to counteract this trend.
The first goal of the project was to produce a video to be distributed to high school and community college counselors. Production of the video was funded by grants from The Foundation of the Association of Legal Administrators (FALA), the San Diego County Bar Association and various other businesses, law firms and other associations. The video follows a group of students who are given an assignment in a Careers Options class to interview people in the legal field to find out more about their jobs. The students investigate educational requirements, job descriptions and salary potential for each position.  The video is used in various settings including School to Career classes, job fairs and as a resource for guidance counselors. This award winning video has been distributed to more than 50 San Diego area high schools with contact information if teachers and guidance counselors want additional information.
The next step of Project LEAP is to create a database of legal administrators, attorneys and law firms willing to provide job shadow and internship opportunities to students. The database will also include individuals from all the different job categories who would be willing to serve on a Speakers' Bureau. These individuals would be called upon when an opportunity becomes available to speak to high school students.
We hope you will leap at the opportunities!